Earthquake Dampers
Seismic Provisions to Keep Customers Safe
Earthquake and base isolation dampers utilizing KYB hydraulic technology are top in Japanese domestic market share. In the spirit of full collaboration with our customers, we will continue to incorporate their ideas into our products to meet their diverse needs, be it computerization, better performance or lowered costs.
For further details, please contact Kayaba System Machinery Co., Ltd.
Base Isolation Products
Our base isolation equipment prevents surface shake from being transmitted to the building, protecting both the building and people from large earthquakes.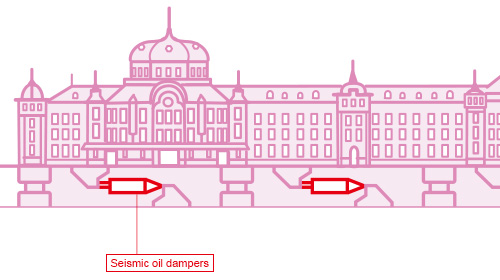 Glossary
Base Isolation

Ensuring that vibrations from earthquakes do not reach a building, by inserting a rubber layer or dampers between the ground and the building.

Vibration Control

Use of dampers to limit and absorb a building's response.