Medium-Term Management Plan (Mid-term Plan)
Our medium-term management plan for the period from FY2017-2019
Slogan for the Mid-term Plan

Mid-term Plan Policies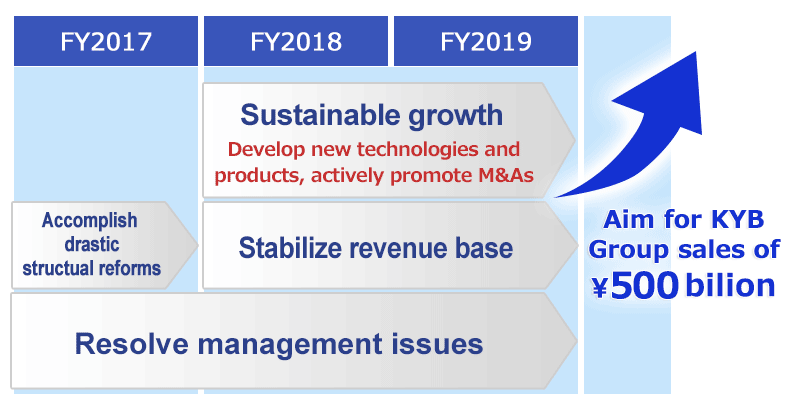 Financial Targets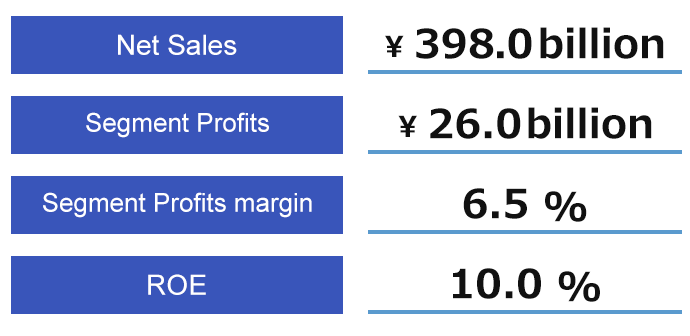 Key Initiatives for the Medium Term
1. Automotive Components Operations
Reconstruct manufacturing and sales positions, Establish new product / technology systems, Increase speed by reorganizing into small business units
Global automobile sales are forecast to increase in the near future. In order to meet customer needs for globalization, the KYB Group will reconstruct the overseas plants that we have been developing until this point. Furthermore, we will deliver technologies that can fully satisfy customer's technological needs and make progress with the motorization required in the transition towards automatic vehicle operation. In aftermarket products, we will combine the optimum local production systems with sales expansions. We are reorganizing into small business units to speed up decision making and strategy execution, and clarifying the person in charge for each product line.
2. Hydraulic Components Operations
Establish a revenue base that does not rely on quantity, Be relied upon by customers
With a challenging environment forecast for the construction machinery market, price competition is becoming more intense. Boosting the effects of the reorganization already underway in China and domestically, we are establishing a revenue base that does not rely on quantity and improving competitive power. For hydraulic products outside of construction machinery, we are making efforts to further strengthen our sales and development systems to earn the trust of customers.
3. Aircraft Components Division
Expand sales for private demand, Expand repair service business
With the number of private aircraft entering service increasing, we are aiming to expand sales of components for private aircraft based on official demand business under a newly established organization. In addition, for existing products, we are investigating large machines and land/sea/air components that require repair, and increasing the items needing repair for which we can offer new proposals.
4. Technology and Product Development
New product / technology creation, Improve quality for design / production technology, Develop functional safety support as well as strengthen design / evaluation technology
To accurately adapt to the changes in the times and business environment, we will offer customers up-to-date technology and products through development based on a long-term strategy, leading to further orders. Also, we will focus on efficiently developing products based on our core technology for everything from basic technology to product development, while also developing systems products that combine those products and technologies.
We are making proactive efforts to research cutting-edge technologies / materials, and creating new product technology.
We are developing an electronic / electrical quality management system which includes functional safety support, and we will continue to expand its use for electronic component products other than automobiles. Also, we are establishing a business model that combines onboard vehicle communication technology and services, as well as evaluation technology for electronic components products, and developing next-generation systems.
5. Human Resources Development
Train human resources that can act from a global mindset and point of view, Use human resources to maximize diversity
We are training professional human resources that can act from a global mindset and point of view through the overseas trainee dispatch system and increasing the work experience of young employees, thus improving the competitive power of our monozukuri and technology / product development. Furthermore, we are increasing the sphere of activity for female employees to create a work environment where diverse human resources can put in their best efforts, and ensuring human resources as Japan moves towards an aging population and declining birth rate.
6. Monozukuri (manufacturing expertise)
Efforts toward an innovative production line
We are proactively promoting automation using our own highly developed production technology, manufacturing methods and equipment together with IoT and AI. We are working to construct and innovative production line that will reduce lead-time and space by half and double productivity.
7.Management
Effective internal controls system, Establish crisis management system, Promote CSR activities
KYB strives to meet the expectations of our shareholders through achieving continuous growth and improving our corporate value. At the same time, we carry out our corporate social responsibilities to contribute to society and strengthen our corporate governance. In order to further increase the effectiveness of our internal controls system, we are working to comply with global regulations, make the best use of our internal reporting system, and strengthen our compliance with corporate governance and codes.
Also, we are putting in place a BCP (business continuity plan) as well as BCM (business continuity management) to meet customer demands, and increasing the effectiveness of our crisis management system.
Accordingly, we make proactive efforts for social support / contribution activities (non-business activities), and make contributions to the sound development of society.