Automotive
Providing a Comfortable and Safe Ride
Whether it be for a comfortable drive with the family or challenging the harsh conditions of the motorsport scene, KYB automotive components pursue the drivability to satisfy everyone.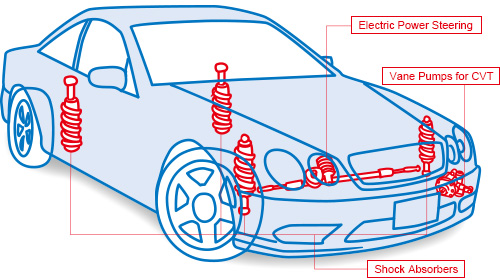 Shock Absorbers (SA)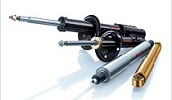 Shock absorbers are products mounted between the body frame and tires along with springs to absorb vibrations from the frame. The springs expand and contract to absorb the shock from road surface irregularities. The shock absorber restricts vibrations when the compressed spring returns to its original state. Shocks provide a comfortable ride and greater steering stability.
Glossary
Damping Force

The force that controls the expansion and contraction of springs, and works to suppress vibrations.

CVT

An abbreviation of Continuously Variable Transmission. Gears are shifted in accordance with the state of revolutions coming from the engine, and this is conveyed to the wheels.