KYB Brand
KYB Corporate Symbol

Logo Meaning:
It has an impressive and unique design while maintaining a legible style as letters. Slanted slits in each letter represent comfortable sunlight cast through the trees and sunbeams illuminating the road ahead. The logo represents an image of unconstrained growth and flexible response to the trends of the era. The right side of the letter "B" represents liquid pressure indicating the origin of KYB. Using italic letters expresses a sense of speedy movement.
What the corporate color means:
While the logotype represents comfort, the enthusiastic color of red represents enthusiasm to create a society where industrial crafting brings happiness to everyone as well as to provide the technologies that bring a warm and comfortable life. Red is also a positive color that represents the manufacturing that goes the extra yard.
Corporate Statements

"Precision" = [n] correctness, appropriateness, accuracy, fine, minute "Advantage" = [n] superiority, strength, benefit, effect [vt] brings benefit, promote To represent KYBハシs determination and desire to see that the "joy of manufacturing makes people smile," we choose the corporate statement "Our Precision, Your Advantage. " The determination of KYB is to implement "manufacturing that goes the extra yard," which is supported by the reliable quality, and to provide new value and uncommon satisfaction to end users and customers. The desire of KYB is that industrial crafting brings happiness to everyone in society. The corporate statement incorporates such determination and desire.
Platform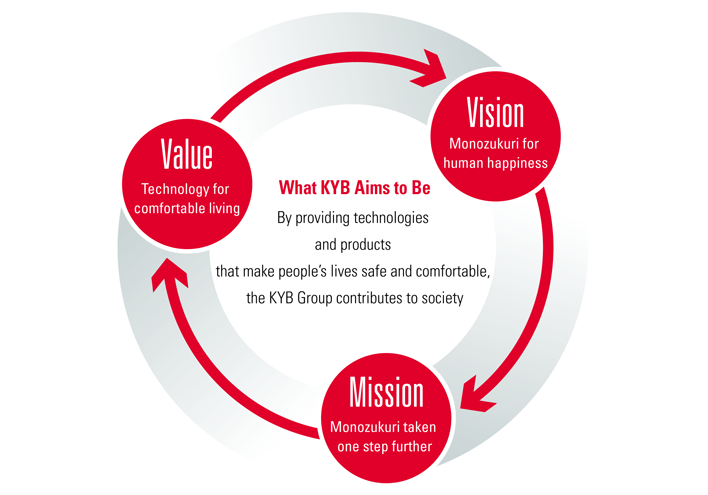 VISION
What the KYB brand can do for the world
Monozukuri for human happiness
KYB's aim is to support the development of society through the joy of Monozukuri, and make people happier as a result.
VALUE
Value made possible by the KYB brand
Technology for comfortable living
Sensory value : comfortable living, the joy of Monozukuri Functional value : reliable quality
The value KYB promises its end users is a higher level of "comfortable living" that comes from creative technology and sincere product development.
The value KYB promises its clients is the "reliable quality" that comes from thinking of the end user as "our client".
The value KYB promises each employee is "the joy of Monozukuri" that comes from knowing he or she is changing the world.
MISSION
The mission of KYB brand
Monozukuri taken one step further
KYB will remain an enterprise able to bring value to our clients and markets thanks to the reliable technical expertise we have built up over the years.
Through our own efforts, we take Monozukuri one step further to provide our clients with new value and greater satisfaction than they have ever known.